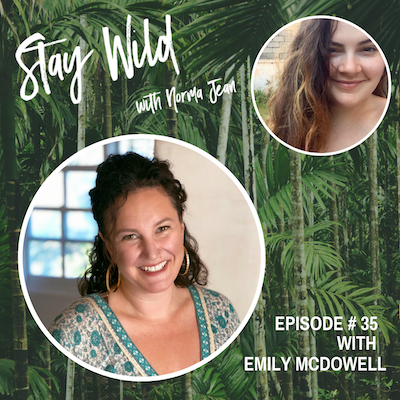 Hey little humans, I'm Norma Jean and Welcome to Stay Wild, the podcast about how to keep your quirks in the wonderous world!
This is episode #35 with today's guest, Emily McDowell.
I am so excited to share Emily's story! She is the founder of Emily McDowell & Friends (formerly Emily McDowell Studio), a company that creates beautiful illustrated treasures, and started out making greeting cards that spoke the truth!
As humans living in this fast-paced digital world, it has become a challenge for us to connect - we've been so accustomed to "minding our own business" and setting boundaries that it has become difficult for us to say exactly how we feel, and we've left a lot of that job with greeting card companies. Then again, classic greeting cards don't reflect what's actually happening in our lives and how we're feeling. Template messages just weren't cutting it anymore. Enter Emily and the Empathy Card Revolution!
Join us for this episode of delving into creative paths, empowerment, entrepreneurship, and how success and joy in our lives is anything but linear.  
Check out her work on:
Today's episode was brought to you by me, Norma Jean. You can hear all of my music that we use on the show, check out the podcast, see my cartoons, and grab one of my hand-made shirts at www.njloves.com